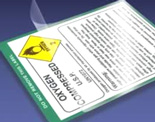 Laminated Sticker Features:
Clear Overlamination For Protection From Abrasion & Chemicals
One Color And Multi-Color Printing
White, Yellow, Or Clear Vinyl Material
UV Inks And Weather Resistant Vinyl
Great For Outdoor And Indoor Use
Custom Die Cutting Available
Available With Normal And Super-Tac Adhesive
Production Time:
Approximately 9 days (does not include shipping time, or possible art time).
Laminated Sticker Prices
One factor that determines the price of custom laminated stickers is the size in square inches. Use the calculator below to determine square inches of the stickers you need to order. Use decimals for fractions. Example: For 1/2" use .5".
Prices listed below are per sticker. The price with a one color print is listed. The cost for each additional color is listed directly below it. Add the cost of one additional color for a white base on clear stickers.
Call us at 800-859-1975 for assistance with prices and ordering.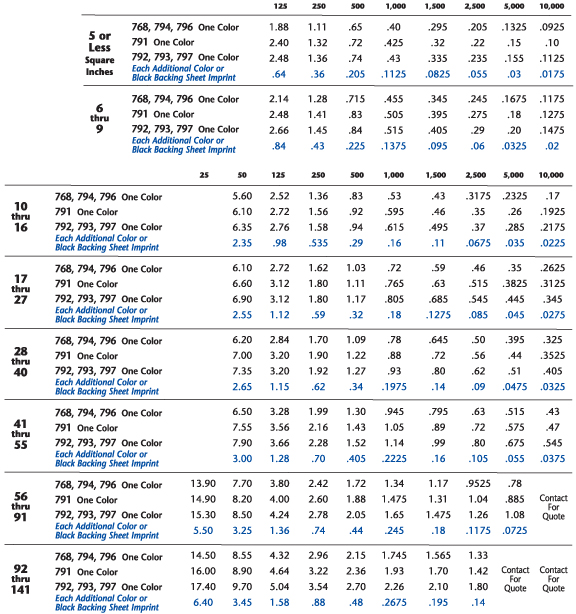 Additional Ordering Information:
The minimum order for custom one color and multi-color laminated stickers is based on the size of the decals ordered.
Any art charges will be added to the invoice after we receive your order and determine if any art is provided, or if we need to create the art for you. Any art charges depend on what we are given for artwork and what we need to do to make it print ready. We charge $55.00 per hour for artwork. Click here for more instructions on sending art.
If you are providing art, it can be mailed or emailed. Email art to: info@stickers4u.com
White is a printed color on clear decals. White must be printed behind all colors when printing on clear material. The cost of one additional color will be added to the order.
There is a one time charge for custom die cutting of $148.00 for special shapes 143 square inches or less. There is no die cutting charge for stickers with square cut corners like squares, or rectangles, or for circles sized in 1/2" increments like 2" diameter, 2 1/2"diameter, 3"diameter, etc. There would be a one time die cutting charge for a 2 3/4" diameter sticker.
An invoice will be made after your order is submitted. Any additional art charges, set up charges, custom die cutting charges, etc., will be added to the invoice at this time. The invoice will be faxed to you for final approval. If you don't provide a fax number we will email you with your total cost.
If you need stickers that are larger than those listed above, please e-mail us for a quote. info@stickers4u.com
---
Need Help Finding An Item, Price Or Product Information?
We can offer an immediate response to any questions, or inquires you may have.

We Are Always Available 8:30 - 5:00 PST Monday Through Friday
We pride ourselves on our ability to handle a diverse range of projects and customers,
from a special event at an elementary school to trade show giveaways for a major corporation.
For ideas, assistance and ordering call toll free 1-800-859-1975
or email us at
info@stickers4u.com
.